Welcome to Ronkville. Established: 2007 Population: 1 (though we get a lot of visitors passing through)
Click the timestamp to go to the full post or source. And read
The Ronkville Morning Bugle
to keep up on what news is buzzing around our little hamlet today.
---
Winter solitude--
in a world of one color
the sound of wind.

&nbsp &nbsp ~ Basho
---
visitors
Go ahead, ask me a question.
November 18, 2013
after Hotel Room by Edward Hopper, 1931
(Source: artxsmart)
November 8, 2013
Yet another Hopper parody of Nighthawks - Archie #649 by Jeff Shultz Image via Comicvine
(Source: comicblah)
October 6, 2013
Really enjoyed seeing the Hopper exhibit at the Whitney Museum:
Edward Hopper's masterpieces alongside over 200 drawings that inspired them in Hopper Drawing
(Source: whitneymuseum)
September 22, 2013
Not that Hopper needs animation…
September 21, 2013
A Sunday September Equinox
A Woman in the Sun by Edward Hopper, 1961 via whitney.org

Another equinox approaches. They are…
July 31, 2013
Whitney Museum of American Art: Hopper Drawing
Through October 6

Hopper Drawing is the first major museum exhibition to focus on the drawings and creative process of Edward Hopper (1882–1967). More than anything else, Hopper's drawings reveal the continually evolving relationship between observation and invention in the artist's work, and his abiding interest in the spaces and motifs—the street, the movie theatre, the office, the bedroom, the road—that he would return to throughout his career as an artist. This exhibition showcases the Whitney's unparalleled collection of Hopper's work, which includes over 2,500 drawings bequeathed to the museum by his widow Josephine Hopper, many of which have never before been exhibited or researched. The exhibition surveys Hopper's significant and underappreciated achievements as a draftsman, and pairs many of his greatest oil paintings, including Early Sunday Morning (1930), New York Movie (1939), Office at Night (1940), and Nighthawks (1942), with their preparatory drawings and related works. This exhibition also features groundbreaking archival research into the buildings, spaces and urban environments that inspired his work.
July 22, 2013
It's the birthday of the painter Edward Hopper, born in Nyack, New York (1882). By the time he was 12, he was already six feet tall. He was skinny, gangly, made fun of by his classmates, painfully shy, and spent much of his time alone drawing.

After he finished art school, he took a trip to Paris and spent almost all of his time there alone, reading or painting. In Paris, he realized that he had fallen in love with light. He said the light in Paris was unlike anything he'd ever seen before. He tried to re-create it in his paintings.

He came back to New York and was employed as an illustrator at an ad agency, which he loathed. In his spare time, he drove around and painted train stations and gas stations and corner saloons.

Hopper had only sold one painting by the time he was 40 years old, but his first major exhibition — in 1933 at the Museum of Modern Art — made him famous. His pieces in that show had titles like "Houses by the Railroad," "Manhattan Bridge Loop," "Room in Brooklyn," "Roofs of Washington Square," "Cold Storage Plant;" "Lonely House," and "Girl on Bridge." Though his work was more realistic and less experimental than most other painters at the time, he painted his scenes in a way that made them seem especially lonely and eerie.

http://writersalmanac.publicradio.org/index.php?date=2013/07/22
July 22, 2013
Railroad Sunset
Edward Hopper
July 22, 2013
"Maybe I am slightly inhuman … All I ever wanted to do was to paint sunlight on the side of a house." — Edward Hopper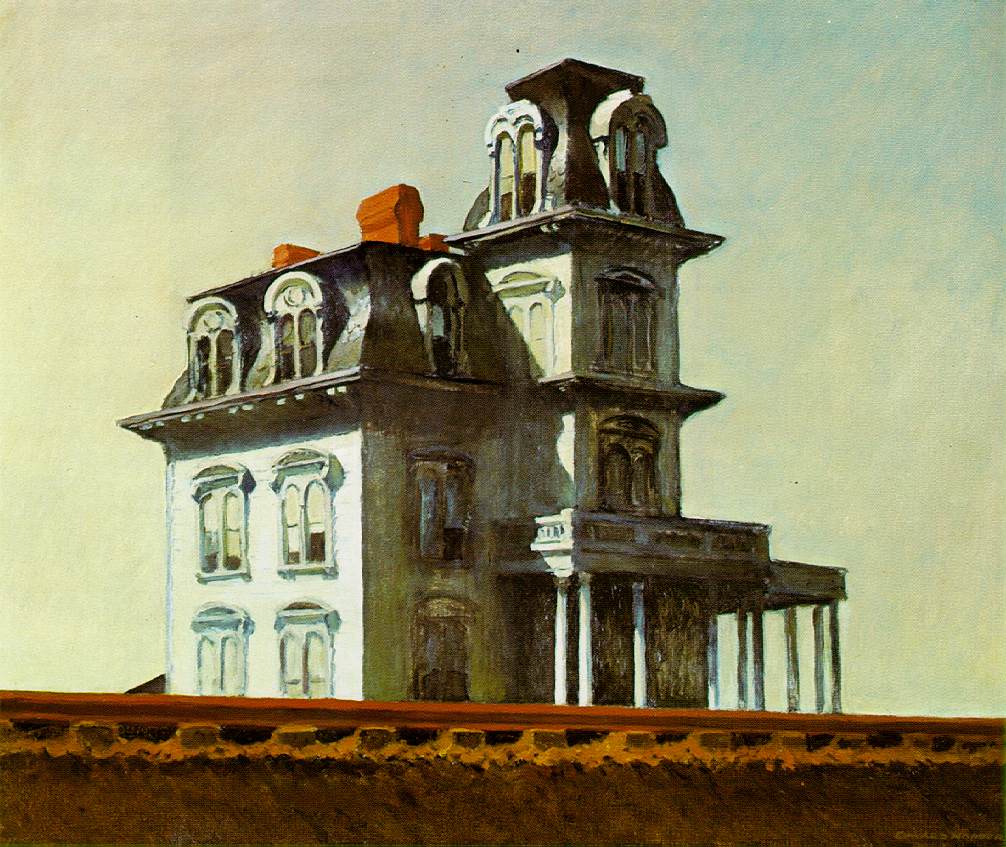 July 22, 2013
morning light from Edward Hopper, on his birthday
July 4, 2013
Edward Hopper, Boy and Moon (1906-1907)
(Source: artisticassembly)
June 22, 2013
Hopper sunlight today
(via nataliakoptseva)
June 3, 2013
May 19, 2013
"If I could say it in words there would be no reason to paint."
— Edward Hopper
(Source: spitefulsoup)
May 18, 2013
It's an Edward Hopper kind of 11 am today

(Source: theremina)