Welcome to Ronkville. Established: 2007 Population: 1 (though we get a lot of visitors passing through)
Click the timestamp to go to the full post or source. And read
The Ronkville Morning Bugle
to keep up on what news is buzzing around our little hamlet today.
---
Will you turn toward me?
I am lonely too
This autumn evening.

&nbsp &nbsp ~ Basho
---
visitors
Go ahead, ask me a question.
November 30, 2013
Chambered Nautilus
Wyeth
(Source: gracewoodroofe)
November 28, 2013
"The imagination is not a state: it is the human existence itself."
—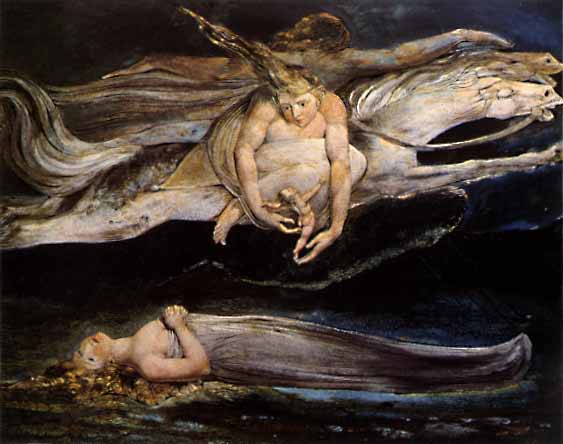 Today is the birthday of someone who never celebrated Thanksgiving. Poet and artist WILLIAM BLAKE
was born in London in 1757).
He started seeing visions when he was a young boy — God in the window, angels in trees.
He apprenticed to an engraver, and spent his life as a little-known printmaker and poet.

Blake set up an exhibition of his art in his brother's shop and called it "Poetical and Historical Inventions." He left the show up for a year, but not many people attended, and not a single piece of art was sold.

Though famous today, he died in poverty in 1827, at the age of 69. In the 30 years after publishing his Songs of Innocence, Songs of Experience
, fewer than 20 copies had sold.
An 1863 book, Life of William Blake was published  quoted many of Blake's poems, and included his illustrations and was hugely popular, and for the first time, Blake was considered a major English poet.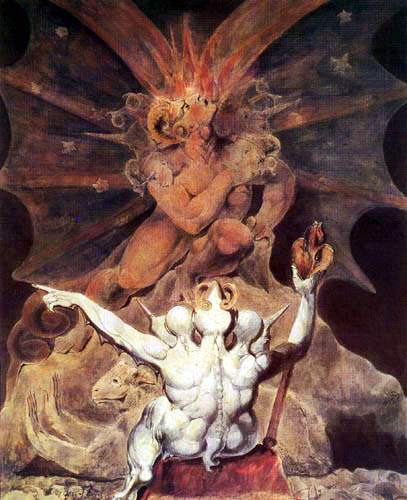 November 20, 2013
artxsmart: after 'l'absinthe' by  Edgar Degas, 1876
November 18, 2013
after Hotel Room by Edward Hopper, 1931
(Source: artxsmart)
November 15, 2013
"Nothing is less real than realism. Details are confusing. It is only by selection, by elimination, by emphasis, that we get at the real meaning of things."
It's the birthday of American artist Georgia O'Keeffe, born in Sun Prairie, Wisconsin 11/15/1887. 
She went to Taos, New Mexico on a visit and fell in love with the desert. She felt that the thin, dry air helped her to see better, and she devoted the rest of her career to painting desert mountains, flowers, stones, and skulls.
November 8, 2013
Yet another Hopper parody of Nighthawks - Archie #649 by Jeff Shultz Image via Comicvine
(Source: comicblah)
November 2, 2013
http://www.youtube.com/attribution_link?u=/watch?v=BfdjQ3bZjYk&feature=share&a=NXkGw1U0W449gZXd9eoMAQ
Exit Through The Gift Shop (2010)
The story of how an eccentric French shop keeper and amateur film maker attempted to locate and befriend Banksy, only to have the artist turn the camera back on its owner. The film contains footage of Banksy, Shephard Fairey, Invader and many of the world's most infamous graffiti artists at work.
Written by Sundance Film Festival

Banksy is a graffiti artist with a global reputation whose work can be seen on walls from post-hurricane New Orleans to the separation barrier on the Palestinian West Bank. He fiercely guards his anonymity to avoid prosecution. An eccentric French shop keeper turned documentary maker attempts to locate and befriend Banksy, only to have the artist turn the camera back on its owner. Includes footage of Banksy, Shepard Fairey, Invader and many of the world's most infamous graffiti artists at work, on walls and in interview. As Banksy describes it, "It's basically the story of how one man set out to film the un-filmable. And failed."
Written by Paranoid Pictures

Los Angeles based Frenchman 'Thierry Guetta' gets the idea that he would like to film street artists in the process of creating their work. He tells them that he is making a documentary, when in reality he has no intention of editing the footage into one cohesive movie. Unaware of this latter fact, many street artists from around the world agree to participate. Thierry even gets into the act by assisting them in creating the art. One of the artists that participates is the camera-shy Brit Banksy, who refuses to be shown on screen unless he is blacked out. Banksy does convince Thierry to use the footage to make a movie. In Thierry doing so, Banksy comes to the realization that Thierry is a lousy filmmaker, but he is an interesting character in an odd yet appealing way. So Banksy decides to use the footage and add additional material to make his own movie about Thierry's journey in this project. Since Thierry spent so much time involved in the process of street art, Banksy also convinces Thierry to become a street artist himself. Thierry reinvents himself as street artist MBW, an acronym for "Mr. Brainwash". Banksy, in the end, may regret this suggestion.
Written by Huggo
November 1, 2013
October 30, 2013
I'm really not sure what to say about this piece of art.
(via grantedserenity)
October 29, 2013
Ah, Vincent
October 22, 2013
Lily amongst the pads
RUUD VAN EMPEL
(Source: 6vladia6)
October 13, 2013
A gallery with no sculptures, only a cloud floating within the space.
'Nimbus' is a new installation of Amsterdam-based artist Berndnaut Smilde, who refuses to explain how he managed to create a real cloud.
(Source: p-shuffles, via kdecember)
October 11, 2013
It was lost for so long that it had assumed mythical status for art historians. Some doubted whether it even existed.
Leonardo da Vinci painting lost for centuries found in Swiss bank vault
(via markmarnell)
October 7, 2013
Leonardo Da Vinci (1452 - 1519) - La belle ferronnière.
(Source: lempyree)
October 7, 2013
Dorothee Golz, La Ferronière
(Source: dorothee-golz.com, via artichokes-hearts)