Welcome to Ronkville. Established: 2007 Population: 1 (though we get a lot of visitors passing through)
Click the timestamp on a post to see the full post or source. And read
The Ronkville Morning Bugle
to keep up on what news is buzzing around our little hamlet today.
---
And now, your moment of haiku -
still I see them
how they were -
bare winter trees

&nbsp &nbsp ~ ISSA
---
visitors
Go ahead, ask me a question.
March 10, 2014
Valerie Hegarty's artwork often poses as artifacts of art history gone awry.
(via npr)
March 7, 2014
freytaganderson:  We Go to the Gallery is a hilarious parody book created by artist and comedy writer Miriam Elia, - The book pokes fun at the art world using the visual language of the classic Ladybird books

February 17, 2014
The Americana Diner by Tony Fischer Photography on Flickr.
February 11, 2014
February 10, 2014
Avenue of Poplars at Sunset, 1884 by Vincent van Gogh
(Source: vincentvangogh-art)
January 26, 2014
Nighthawks at Monk's Cafe
January 25, 2014
"All art is autobiographical; the pearl is the oyster's autobiography."
—   Federico Fellini
January 23, 2014
January 14, 2014
Crescent, 1987 by Andrew Wyeth
(Source: starswaterairdirt)
January 8, 2014
January 1, 2014
Claude Monet (Fr. 1840-1926), L'entrée de la Grande-Rue à Argenteuil, l'hiver, 1875
(Source: wetreesinart)
December 28, 2013
"The Road To La Ferm Saint-Siméon In Winter," Claude Monet, 1867; View In High Resolution.
December 20, 2013
November 30, 2013
Chambered Nautilus
Wyeth
(Source: gracewoodroofe)
November 28, 2013
"The imagination is not a state: it is the human existence itself."
—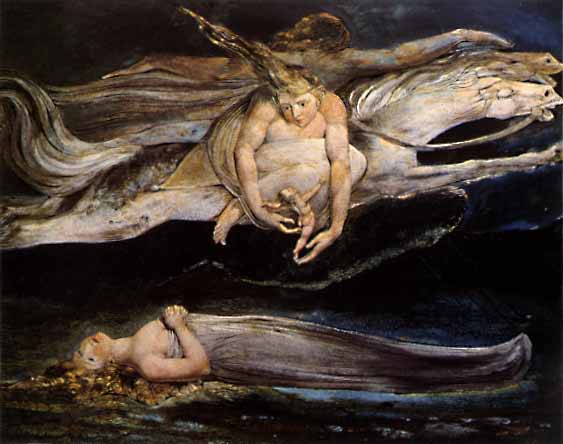 Today is the birthday of someone who never celebrated Thanksgiving. Poet and artist WILLIAM BLAKE
was born in London in 1757).
He started seeing visions when he was a young boy — God in the window, angels in trees.
He apprenticed to an engraver, and spent his life as a little-known printmaker and poet.

Blake set up an exhibition of his art in his brother's shop and called it "Poetical and Historical Inventions." He left the show up for a year, but not many people attended, and not a single piece of art was sold.

Though famous today, he died in poverty in 1827, at the age of 69. In the 30 years after publishing his Songs of Innocence, Songs of Experience
, fewer than 20 copies had sold.
An 1863 book, Life of William Blake was published  quoted many of Blake's poems, and included his illustrations and was hugely popular, and for the first time, Blake was considered a major English poet.